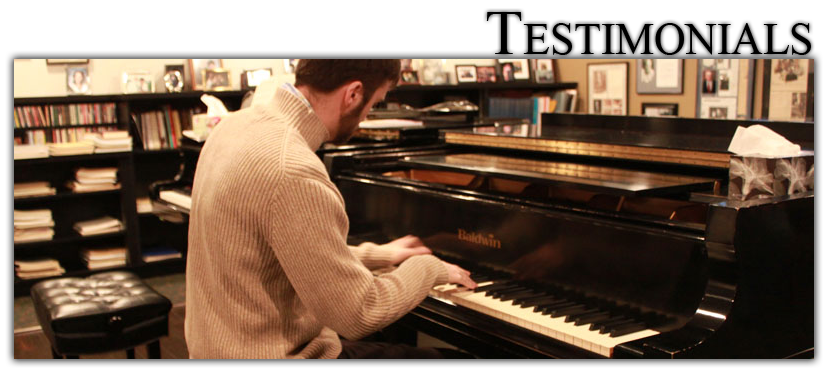 Read just a small sample of the wonderful things said from past and present students of Butler Piano Studio.
"I have always known of my strong feelings of friendship and respect that I have had towards you. But now, I want to thank you for the continuous support and friendship that you have given me. Thank you for continuously treating me like I was a professional even when I didn't deserve it. I want to thank you for sticking beside me when I should have been deserted. There are so many things that I want to thank you for but mostly for your patience and your caring heart! I just wanted to thank you for all the work you've done in helping me along the way. Everyone thinks that you've done a wonderful job."
F.M.
"Thanks for being such a great mentor all these years with not only piano, but with life in general."
J.H.
"There are not enough "thank you's" to express my appreciation for all your help, guidance and friendship over the years. You helped me reach a goal and I will never forget it. Thank you."
M.V.
"I wanted to thank you for your years of teaching, and specifically your immense focus on having a strong technique. Ever since I have started university, I have really appreciated the solid piano foundation you have given me."
D.F.
"Thanks for always caring and for helping me become a much better pianist. I have really enjoyed my time in the studio."
N.G.
"I'm not exactly sure where to begin. You have been, by far, the most influential person in my life. You've taught me many things, from being a better musician to being a better person. You've shown me that not only is music/piano a skill, it is a way of expression and a way of life. I will continue to use all the life lessons you have taught me every day of my life. You have been, and always will be a very important person in my life. Thank you for all your support over the years. You have always been there, through the good times and also through the difficult times. Words can't quite describe what this means to me. Thank you for everything."
H.T.
"I am so glad I am here, in your studio!! Thank you for your support."
A.K.
"Thanks for all you do Dr. Butler! Your devotion to music is truly inspiring."
S.D.
"Thanks so much for all your help. You're the best piano teacher any student could ask for."
T.M.
"Thanks for a great semester. I feel you've really helped me come a long way in the short time we've been together."
J.L.
"Hey Coach! Thanks for everything-I know our time was cut short but I think it was extremely meaningful. I know that I will look back and feel grateful for all that you taught me. I not only consider you a teacher but also a friend and I will definitely be in touch! Thanks again! Love,"
K.S.
"I just wanted to express to you my gratitude for all your teaching and advice that you gave me throughout my degree. As I reflect back, I'm starting to realize how I wouldn't have gotten here if you hadn't been as generous as you were. In addition to being an amazing teacher, you are also an inspiration because you gave me a second chance when I wasn't sure that I even deserved one. I'll never forget how you have allowed me to realize my wildest musical dreams and showed me that through hard work and dedication, I can continue to be successful. Thanks again!"
A.
"Thank you for having faith in me Dr. Butler."
C.G.
"It seems like yesterday I was having my first piano lesson with you and now look where we are! We have been through a lot together and I want you to know that I love you and that you will always have a special place in my heart. Thanks so much for everything! Love, "
D.K.
"Thanks you so much for all the extra hours and lessons. I sincerely appreciate how you give so generously of your time. The whole experience has been so great, thank you for everything!! I feel honoured to be your student! Thanks once again!"
A.L.
"I can't thank you enough for all the extra hours and energy that you invest in us. I will be eternally grateful for everything and I won't forget the great experiences! Thank you for all the support and encouragement to make it this far."
M.T.
"This visit really reminded me of how I had felt when I was at school and in your master classes. I realized that I not only miss playing, practicing but your lessons and going to classes regularly. I always thought that it must have been the fact that I really loved piano that I actually did it consistently for six years. But while talking with you about your current students and me as a student, I realized that it may be true that I like piano more than other things but the main reason that I kept at it was you! I mean I think I knew that before, but I forgot over the last few years. It was your support and belief in me that kept me doing it. For the first time in my life I had someone who really believed in me. That's an amazing feeling! Having you believe, not just that I can do this particular thing, but in me as a person is what kept me so excited about piano and music. Love, "
H.T.
"What can I say! Five years, it's been so fun. Thank you, my success is a result of your teaching, motivation, encouragement, time and dedication. Brevard 2000, Concerto Night, Grad School, Scholarships and my playing are a result of all the time we spent together. It's so hard to leave. I honestly don't know where I would be today without you. You found my love of life and developed it. For that, I will be eternally grateful. Thank you for preparing me for the next stage and for the rest of my life. I will remember your words and teaching wherever I am. I'm so speechless; the time has flown by so quickly. I have learned so much. Thank you so much, for everything, for the past five years! Always,"
D.C.
"Thank you for an amazing year! I'll never look at the green leaves on trees the same way. I look forward to studying with you over the summer and can hardly wait for next September. Thank you for all your time and help. You're a great teacher!"
L.M.
"I just wanted to say thank you for all of the time and energy and patience that you've invested in me over the past few months. I know that it may not have seemed like I was realizing everything I should have, but these lessons have had a major impact on me and my perspective of my own playing. They given me a new beginning, and although it will still take a lot of time and work, I believe that I can accomplish a level of playing that I never thought I could before. Wherever my career ends up taking me, I will always have the desire to be as good as I possibly can. You've renewed my faith in myself. Thanks again."
L.N.
"Now that the time has come for me to leave the secure environment of this university and the fosterage of my teacher, I look back and realize how much you have given me, how well you have prepared me. You have instilled in me your own musical ideals, ideals which I value highly, and will always harbor and practice. I am forever grateful for all your advice, both professional and paternal. I shall never forget the four years in which you turned me into what I have always striven to be: a musician, a disciple of the greatest of the Muses creations, Music. Can man achieve any further ecstasy of the mind and spirit than when playing music? I now feel ready to conquer the world. Your gift to me is priceless. In eternal gratitude, esteem and love,"
V.R.
"Thank you for three years of support and encouragement. At the School of Music, I have received scholarships, performance opportunities and individual attention that will remain with me throughout my life. Above all, I have considered my piano studies with you the most enlightening. I am so proud to have graduated from the School of Music of the University of Windsor as one of your students."
K.M.